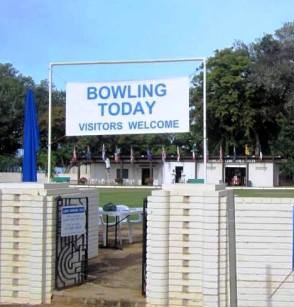 Honolulu Lawn Bowls Club, Ala Moana Regional Park, Honolulu
Visitors are welcome.
We bowl every Saturday at 10 am. There is bowling on other days.
Often there are games at 10 am on Monday, Wednesday and Friday.
ALOHA BAREFOOT BOWLS TOURNAMENT February, 2019
Our annual Aloha Barefoot Bowls Tournament is right around the corner! It is a 3 day (or 4, depending on weather) event beginning February 13 and (likely) concluding February 15. In the case of extreme inclement weather it may go on through February 16. As many of you know, this is a super fun tournament where we play with bowlers from around the world!
Information about the tournament (format, cost, what's included) can be found on fliers that have previously been emailed to you, and are also available in the Clubhouse, on the desk. To register, or get more information, please contact: alohalawnbowls@gmail.com
___________________________________________________________
John Bray Memorial Mixed Doubles Tournament
On December 8th, the Club sponsored a mixed doubles Tournament. It was great fun. We had 16 participants (8 teams).
The CHAMPIONS are: Jean Garry/Robert Katzman
2nd Place: Fozia Fearnley/Robert Garry
CONGRATULATIONS to the winners, and to all of the participants. You all helped make the day fun and special! The Champs names will be etched on the John Bray Memorial Trophy which resides in the clubhouse.
________________________________
Free lessons for Beginners and free use of equipment every Saturday morning from 9.20 am to 9.50 am.
Join us at the green.
The club has a variety of bowls to loan and visitors are not required to follow a dress code other than wearing flat-soled shoes. It is a universal rule in lawn bowling that shoes with heels are not allowed because they may damage the playing surface. Members and visitors are requested to arrive at the green 10 minutes earlier than playing times so that they can be acquainted and be there when we make up teams.
To find the green see the directions at our website

Find the Green

page.
_____________________________
The Unofficial Barefoot Bowls World Championships h
osted by the Honolulu Lawn Bowls Club
Wednesday February 13 through Saturday February 16, 2019
Join us for four days of fantastic social bowling.
Bowl with teams from Australia, Canada, Japan, New Zealand and the United States.
Brief rules of the tournament:
Teams of two; bowling a total of five bowls in seven end matches
Multiple round robin matches each day qualify teams for third day knockout.
Saturday will be a fun day of social bowls in mixed teams.

Entry fee includes:
Tournament shirt and cap, light breakfast and lunch each day at the club & bottled water.
Plus dinner at the Awards Luau, club merchandise, trophies, prizes and Friday night fireworks!
Entry fee is US $130 per person

Registration:
Register as an individual, a team of two or bring multiple teams, contact:
Honolulu Lawn Bowls Club at alohalawnbowls@gmail.com

_____________________________________________