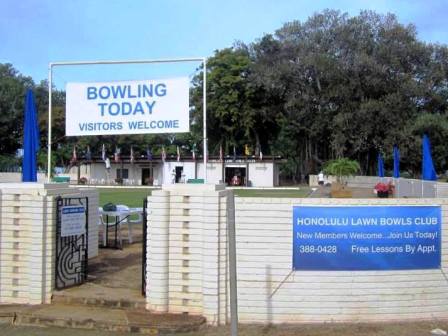 Honolulu Lawn Bowls Club, Ala Moana Regional Park, Honolulu
Visitors are welcome. We bowl every Saturday at 10 am. There is bowling on other days. Usually there are games at 10 am on Monday, Wednesday and Friday. Also at 4 pm on Monday and Wednesday.
Please phone 808 388-0428 for playing times.
Free lessons for beginners every Saturday morning at 9.45 am. Join us at the green. ____________________________________
The club has a variety of bowls to loan and visitors are not required to follow a dress code other than wearing flat-soled shoes. It is a universal rule in lawn bowling that shoes with heels are not allowed because they may damage the playing surface. Visitors are requested to arrive at the green 15 minutes earlier than playing times so that they can be acquainted and be there when we make up teams.
To find the green see the directions at our website Find the Green page.
Our president can be contacted at president@honolululawnbowls.com
.