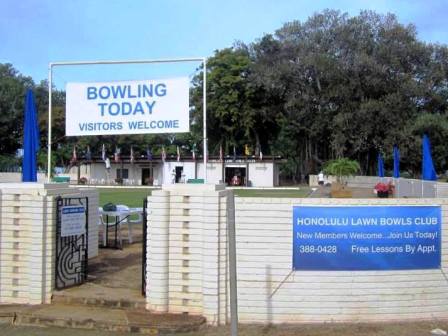 Honolulu Lawn Bowls Club, Ala Moana Regional Park, Honolulu
Visitors are welcome. We bowl every Saturday at 10 am. There is bowling on other days. Usually there are games at 10 am on Monday, Wednesday and Friday.
Please phone 808 388-0428 for playing times.
__________________________________________________
Free lessons for Beginners and free use of equipment every Saturday morning from 9.20 am to 9.50 am.
Join us at the green. __________________________________________________
An Open House will be held Saturday, June 4th from 10 AM - 2 PM. The event is open to the public on a drop-in basis. Members will provide guests with an introduction to the sport including instruction. A light snack lunch will be served and prizes may be awarded.
The club has a variety of bowls to loan and visitors are not required to follow a dress code other than wearing flat-soled shoes. It is a universal rule in lawn bowling that shoes with heels are not allowed because they may damage the playing surface. Visitors are requested to arrive at the green 15 minutes earlier than playing times so that they can be acquainted and be there when we make up teams.
Our green runs out at around 14 seconds, a good pace for a natural grass
surface, similar to good greens in England and Melbourne, Australia. If you send the bowl where you want it to go, the green will take it there.
To find the green see the directions at our website Find the Green page.
Our president can be contacted at president@honolululawnbowls.com
________________________________________


The Vermont South Bowls Club from Victoria, Australia toured Hawaii in May 2016.

They were a touring party of 33 persons from Victoria, Australia and their program was:.

Saturday May 14:  Social bowls matches followed by a light lunch (sandwiches, fruit, and snacks). 10:00 AM - 2:00 PM

Friday May 20:  Friday evening bowls:  Bowls from 5:30 PM, Drinks and Dinner from 7:00 PM.  Fireworks at 7:45 PM.
Buffet dinner $20 each - catering by 

Gina's Barbeque

 





Saturday May 21: Challenge bowls event and social bowls.  Honolulu LBC versus Vermont South LBC (Pairs bowls).  Social bowls for those not wanting to compete.  Barbecue lunch.

______________________________________________
The 2016 Aloha Barefoot Bowls tournament was held February 10, 11 and 12, 2016:
First place: John Green and Craig Armour, Taren Point, NSW, Australia