THE HONOLULU LAWN BOWLS CLUB CAN BE FOUND ON FACEBOOK
https://www.facebook.com/honolululawnbowls/
and at
www.honolululawnbowlsclub.com
LAWN BOWLING GREEN IS OPEN FOR PLAY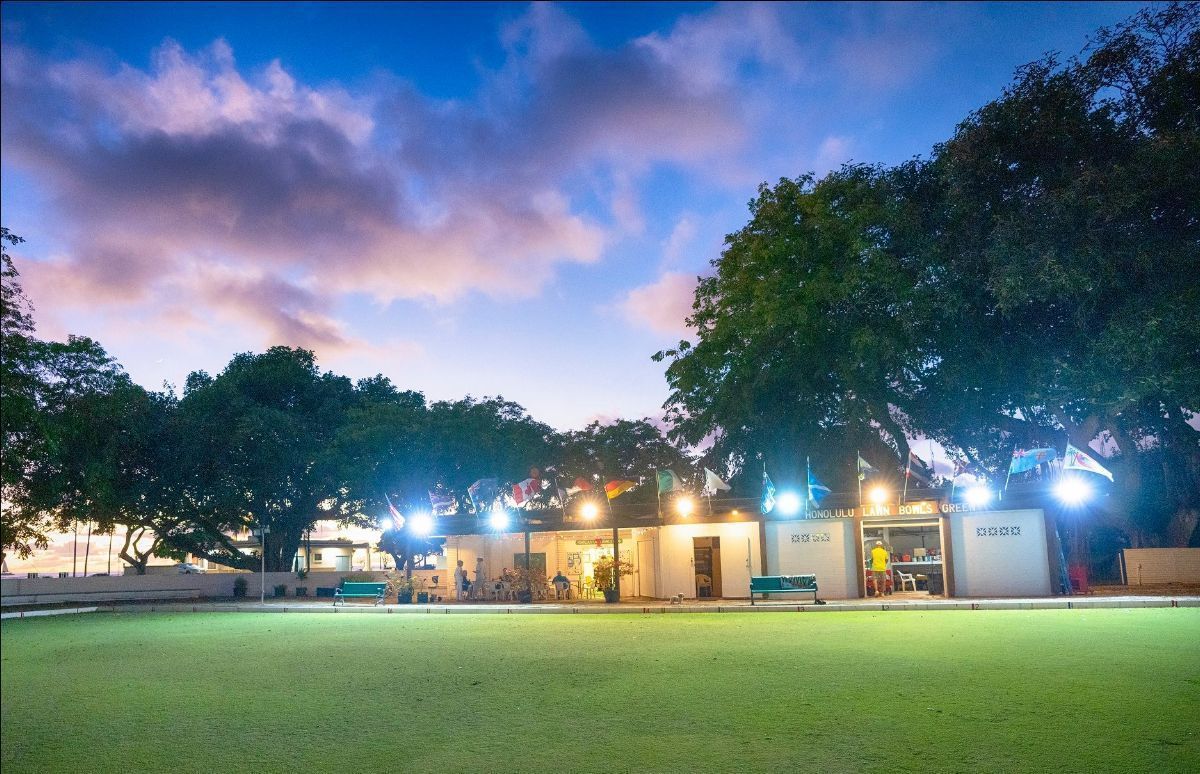 Find the Honolulu lawn bowling green
The bowling green is in Ala Moana Park. Ala Moana Regional Park is the current official title used by the City and County of Honolulu Parks Department.
Ala Moana Park is also called Ala Moana Beach Park. It is around five minutes by bus or car from Waikiki.
It is across the street from the Hokua, Nauru Tower and 1350 Ala Moana apartment buildings which are in Ala Moana Blvd and close to the Ala Moana Shopping Center.
Visitors are welcome
Free lessons and free use of equipment, at 9:30 am on Saturdays before games begin at 10:00 am.
Lawn bowling every Saturday at 10:00 am. There is bowling on other days.
Often there are games at 10:00 am on Monday, Wednesday and Friday, and occasionally on Tuesday and Thursday at 4:30 pm.
The club has a variety of bowls to loan and visitors are not required to follow a dress code other than wearing flat-soled shoes.
It is a universal rule in lawn bowling that shoes with heels are not allowed because they may damage the playing surface.
Members and visiting bowlers are requested to arrive at the green 10 minutes earlier than playing times so that they can be acquainted and be there when teams are made up.
______________________________________________________________
Suggested donations for green maintenance
One Day $10
Weekly $30
Monthly $50
_________________________________________________________________________________________
History
Henry Sims Bent, landscape architect for Moana Park designed the lawn bowling green.
The construction of the green was supervised by Lester McCoy. It was completed in 1937.
The first lawn bowls club in Honolulu was established in 1939.
In 1934 the park was dedicated by President Roosevelt during his visit to Honolulu.
The original design was a "peoples park" for communities use.
The canal in the park connected two lagoons.
One lagoon would be Hawaiian themed and the other named the Oriental lagoon.
The Kingdom of Hawaii donated Banyan trees to the park.
Moana Park was renamed Ala Moana Park in 1947.
The beach was added in 1954. Since then it has been called Ala Moana Beach Park.
The lawn bowling green is included in the Hawaii State Register of Historic Places.