Honolulu Lawn Bowls Club, Ala Moana Regional Park, Honolulu
LAWN BOWLING GREEN IS OPEN FOR PLAY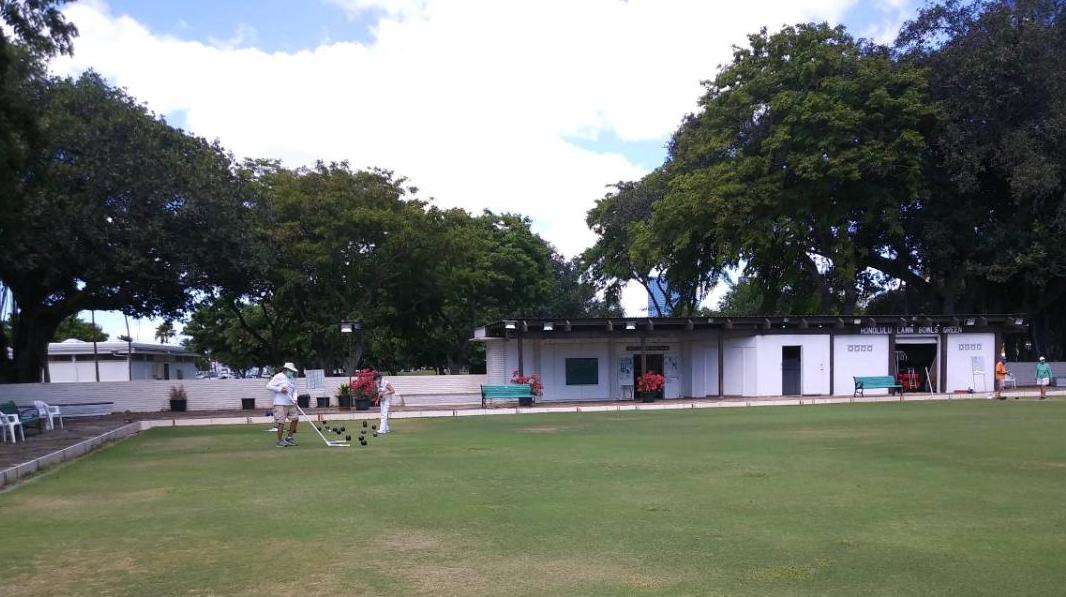 Lawn bowling is allowed and must follow the rules of the current emergency order. Lawn bowling is a sport where there is no physical contact between players.
Players wearing masks, limiting the number of people in the clubhouse, keeping social distance must all be done correctly and in compliance with the latest Coronavirus (COVID-19)​ restriction order: hawaiicovid19.com​
State rules requires everyone to wear a mask indoors, and in outdoor settings when social distancing can't be maintained, regardless of vaccination status.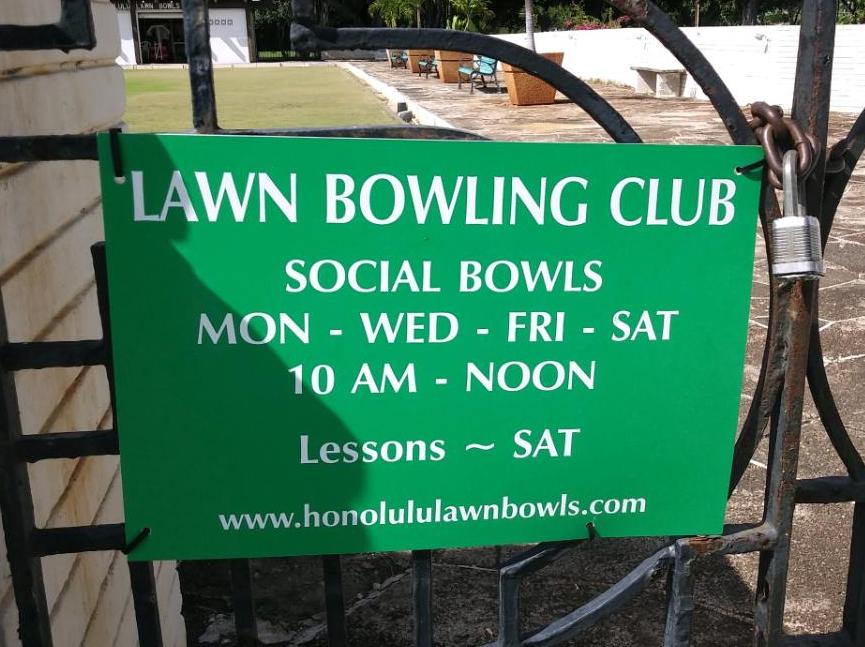 To find the green see the directions at our Find the Green page.
Free lessons and free use of equipment, at 9:30 am on Saturdays before games begin at 10:00 am.
We bowl every Saturday at 10:00 am. There is bowling on other days.
Often there are games at 10:00 am on Monday, Wednesday and Friday, and occasionally on Wednesday at 5:00 pm.
Our monthly social is cancelled for COVID-19 safety. Usually it is held on the last Friday of each month. We bowl from 4:00 pm till 6:00 pm. A pizza or potluck party follows and we enjoy a fireworks show at 8:00 pm.
The club welcomes visiting lawn bowlers from around the world. Past year we've had guests from Australia, Canada, Malaysia, Thailand and Mainland USA.
The Honolulu Lawn Bowls club can be found on Facebook.
An interview with Think Tech Hawaii about lawn bowls and its history in Honolulu is available on YouTube. There are multiple pictures of activities at the club used in this video.
YouTube link:
Join us at the green
The club has a variety of bowls to loan and visitors are not required to follow a dress code other than wearing flat-soled shoes. It is a universal rule in lawn bowling that shoes with heels are not allowed because they may damage the playing surface. Members and visiting bowlers are requested to arrive at the green 10 minutes earlier than playing times so that they can be acquainted and be there when teams are made up.
______________________________________________________________
Our bowling green is maintained by Greens-keeper Mr. Rey Ito. It is a natural grass green and kept to international competition standard.
______________________________________________________________________
Non-members and visitors
Suggested donations for green maintenance
One Day $10
Weekly $30
Monthly $50
Club Membership
One Year Non resident / Visitor $90
One Year Resident $180
Life Membership $2000